Quality, fresh, LOCAL!
Here at Buckincow Creamery we are committed to providing you with quality, fresh, local products!   We have added a handful of products that are not produced locally. If we can find it local, we will use local sources!! We're working to keep product descriptions updated to include the source and location.
How it works
Due to COVID-19 we are offering no contact drops!
Most new customers can expect their 1st delivery within 10 days of placing an order.  
*Some products may take longer (1-2 weeks for some sheep & goat milk yogurts) to begin your recurring order.
We will contact you by email and let you know what day to expect your delivery.  You will also get an email when your order has been dropped off (check spam or add "Support@buckincow.com" to your contacts for the delivery email)
We offer classic metal milk boxes for delivery at your door step!  Customers are also welcome to place their own cooler out for delivery day.  We do suggest ice packs for the warmer days.  
If you subscribed to glass bottles, your first order includes the bottle deposit.  The subscription automatically continues at the w/return price after your first order.  Deposits will be billed for any returns not received.  Please place rinsed returns out for collection on delivery day!
Deliveries will be made on weekdays between 8am and 8pm.  Delivery days may vary as our delivery routes develop.  You have the options to customize quantity, swap, add or remove products, change delivery frequency or cancel any time!  Just log in to your account to make changes or contact us! 
Changes to your subscription; 
The "add to existing subscription" button will update your next subscription.  You can change the items within a subscription, and you can change the frequency of it.  In order to add a *new* subscription (example; you want part of your order weekly, another part biweekly; this is considered 2 subscriptions) you need to view the item, choose the frequency, add items to your cart, use coupon code SUBSCRIBED2 (so you don't get charged an additional local delivery fee), and check out as usual.  You can have as many subscriptions as you like, at different frequencies.  You are able to add items with different subscription frequencies to your cart all at once, this will set you up correctly with multiple subscriptions.
*The $5 local delivery fee will remain on your most frequent subscription.   The coupon code lets you remove the delivery fee from add on items.
Adding to your order after it is processed;
*Log in, add items to your cart, use coupon code SUBSCRIBED so you are not charged an additional local delivery fee and check out as usual.   
*The $5 local delivery fee will remain on your most frequent subscription.   The coupon code lets you remove the delivery fee from add on items.
  
Check our "local delivery zone" page to see a map of our zone or contact us to see if your address is eligible!  
*orders placed from outside our local delivery zone will be refunded.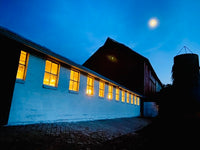 Our history
A bit about our history at Buckincow Creamery, LLC. When I was 12, I was gifted my first calf by a local dairy farmer. She was born premature, and needed special care. She grew to be a big, healthy, crazy cow, running and bucking with my horses. Hence, Buckin' Cow. "Buckin' Cow Farm" though unofficial, is what we called my childhood attempt at a farm, selling fresh eggs. I married a man with a passion for dairy farming and we have returned to Northern New Jersey with our children, and our small herd of cattle.
Our dream is to process and sell our own milk directly to our customers! We are focusing on breeding for a2a2 cattle in hopes that day will come. We are working hard towards our goals and every satisfied customer brings us one step closer.